Welcome to Bumble's Trinket Boxes!
You've just discovered a spectacular collection of 1,500+ trinket boxes! Our new clearance section has been added and a few new boxes will be added soon including four new fairytale Tooth Fairy designs.
Most of the trinket boxes found here have been beautifully crafted in pewter or brass. Many of these little pewter treasures are a work of art that have been carefully hand enameled in amazing shades and colors. "Bejeweled" boxes are set with crystal stones for a sparkling presentation. The trinket boxes in our collection have lids that are hinged with magnet closures or the lids are removable. Many of these designs are truly stunning! View all of our trinket boxes.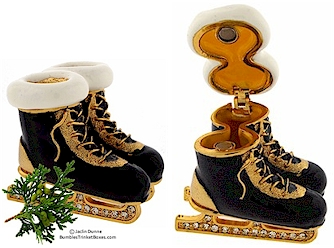 Don't miss a visit to our clearance section!

| | |
| --- | --- |
| These collectible trinket boxes make charming gifts to celebrate a special occasion or simply to brighten someone's day. Browse through our pages of specialty trinket boxes to find just the right gift... for yourself or someone special. | |